Nonconformities were not found! 2023 audit passed!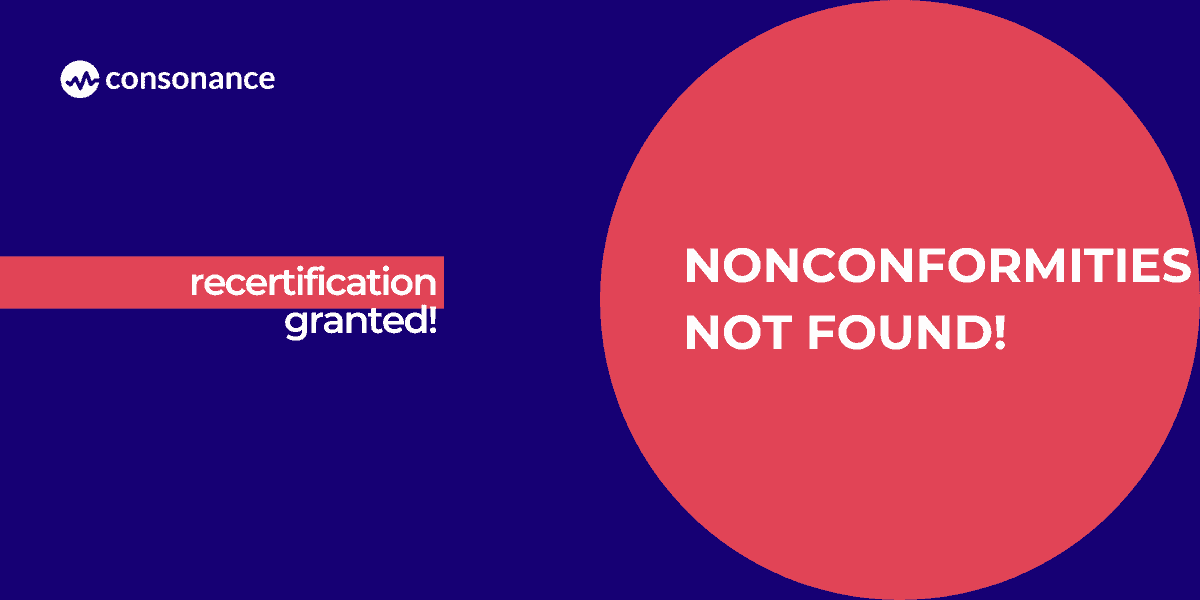 "Nonconformities were not found – the procedure can be continued!" This seemingly simple sentence resonates with profound significance. It encapsulates a moment of triumph, a testament to dedication, and the embodiment of unwavering quality. At Consonance, we are thrilled to share our recent success in once again achieving certification by TUV Nord, affirming our commitment to excellence. The journey to certification is a path marked by meticulous scrutiny, stringent criteria, and unyielding standards.
With immense joy, we announce our successful certification under the following criteria:
Zero nonconformities: 2017/745 Article 10
We are inline with general obligations of manufacturers (producers) of medical devices. We ensure that devices we work on are designed, manufactured, and placed on the market in such a way that they do not compromise the health and safety of patients, users, or others.
Zero nonconformities: 2017/745 Annex. IX, p.2
Our compliance with this pivotal article underscores our dedication to ensuring that our medical devices meet the highest safety and performance standards, bringing confidence to both medical professionals and patients alike.
Zero nonconformities: PN EN ISO 13485:2016 (PCA)
This certification solidifies our adherence to internationally recognized standards for the quality management system specific to medical devices. Our commitment to maintaining and continuously improving this system underscores our dedication to delivering products that meet and exceed expectations.
ISO range major upgrade
But that's not all – this year heralds an exciting new phase for us as we proudly introduce our upgraded ISO range 🌟
We now encompass an even broader scope of activities:
Design and development, manufacture, service of active medical devices for therapy, monitoring, and diagnostics on behalf of other manufacturers.
This expansion is a testament to our team's unwavering dedication to pushing boundaries, embracing innovation, and contributing to the advancement of medical technology.
None of this would have been possible without the hard work, determination, and collaboration of the entire Consonance Team. Each member's expertise, commitment, and passion have played an integral role in achieving this remarkable milestone. 💎
In celebrating this achievement, we also express our gratitude to our valued customers and partners. Your trust and support have been instrumental in driving us to continually raise the bar and deliver solutions that truly make a difference. Our journey doesn't end here – it continues with an unrelenting pursuit of excellence, an insatiable thirst for innovation, and an enduring commitment to enhancing healthcare outcomes. 🚀
We can help you to pass your own medical device audit. Just drop us a line!